Cleaning carpets or chairs
Your Office
By ensuring your commercial carpet is properly maintained, its lifespan can be increased dramatically.
That is important and not just in terms of direct cost of replacing the carpeting - the logistics that come with it, and the productive days lost, are enough to give anyone a headache.
Even if you think the stains are beyond hope, give us a call and we will more than likely be able to surprise you. Your co-workers will be as pleased as your customers.
No more stains, no more smells or dust, meaning less people with allergies. Commercial carpets need more maintenance than just the once-a-week vacuuming if it is to maintain its function as an air filter.
Over time, poor maintenance makes the carpet into a source of dust and allergens, rather than capturing them.

How does it work?
Before the actual cleaning, we always thoroughly go over the carpet with an industrial vacuum cleaner, which is equipped with a bacterial filter. Many others will skip this important step, but the more loose dust, dirt and allergens we can take out beforehand, the better the end result.
Normal vacuum cleaners are nowhere near the same league as this powerful machine.

Next we spray the carpet with our carbonated cleaning solution and protector, which is brushed in with a buffer and left to dwell for ten minutes. Then, we go over the carpet with a buffer that spins cotton pads over the carpet, absorbing the dirt that has largely already been lifted by the solution.
This process also makes the protector stick to the carpet fibres. The buffer method is advised for light to medium soiled carpets.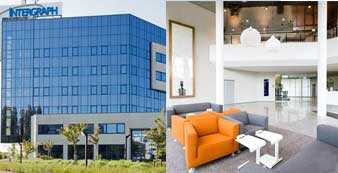 Alternatively, we can use our Powerhead, which is a rotary extraction machine (photo below). This is perfect for heavily soiled carpets, for instance in shops or restaurants.
The machine sprays a mist of hot carbonated solution out of five jets into the carpet, which is immediately vacuumed away by five vacuum inlets. The jets and inlets are mounted on a disc, which spins at 120 RPM underneath a custom made type of buffer, all connected to a powerful machine that provides pressure, heat and suction.
Nothing else comes close to the cleaning power of this machine.
With either method, you can be sure we will provide you with the best possible result. There are very few stains we cannot get out. We can even colour in small bleach stains, if necessary.
A page about our special projects can be viewed here.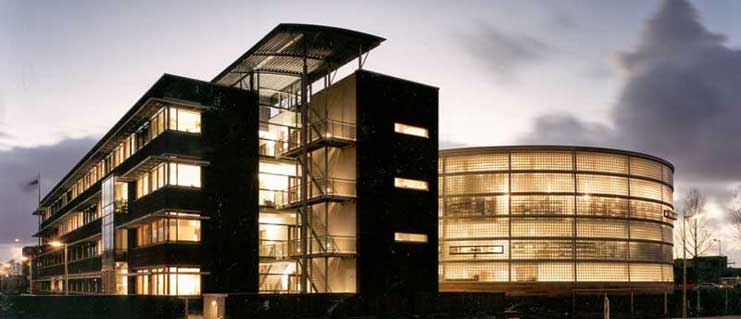 The offices of one of our customers in Hoofddorp
Call us for more information or a free quote: 023-5652180 ,
Monday-Friday from 8.00 pm tot 5.30 pm.

Or send us an email: info@chemdryecolink.nl