Carpet cleaning
You may have gotten annoyed with stains and grime..
Sometimes everything around you seems to want maintenance. This is where we can offer some professional help.
The cleaning of rugs, carpeting and upholstery takes special skills that we have acquired over many years.
We know what we are looking at when examing fabrics and fibres, and we know what cleaning solutions to use on your sofas and rugs.
It goes without saying that you want your home to have the very best service available in carpet and upholstery maintenance.
We treat your home and furnishings with knowledge and respect, because we would like you to phone us again when the need arises.
Our products are completely safe and odourles - your children and pets will be grateful.
We can give you clean, fluffy and nice..
When we visit your home to clean your soft furnishings, nothing is left to chance when it comes to getting everything to look its best again.
Our equipment is professional and state of the art, and so are our hypo-allergenic cleaning solutions and protectors. More technical details about the cleaning process here.

Friendly service and short drying times complete the package. For carpeting, drying times are between one and three hours.
Sofas need about 24 hours of drying time, partly due to the protector that is applied after cleaning.
Heavily soiled carpets, rugs, sofa's, even pet stains are no longer your problem.
We are part of the ChemDry international organisation, the largest chain in the world in its field, bringing the latest developments in fabric care to your home.
This means that if we can't get a stain out, chances are nobody can.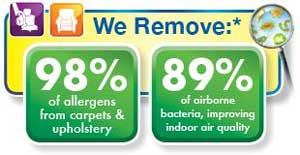 Call us for more information or a free quote: 023-5652180 ,
Monday-Friday from 8.00 pm tot 5.30 pm.

Or send us an email: info@chemdryecolink.nl